Eliminator Hollowing Tools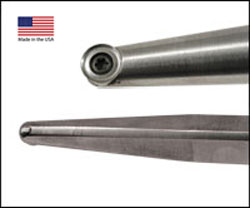 The manufacturer calls this tool the Eliminator because it is designed to eliminate tearout, catches, and sharpening. The Eliminator's specially designed shank automatically positions the cutter at a 45° angle (left or right) for the perfect cut in endgrain or face grain. This is very useful when turning blind inside of a box or vessel.
The Nano Grain Carbide cutter is razor sharp. To refresh the edge, just loosen the screw and rotate the cutter and continue turning. It can be rotated 4 to 6 times providing over 100 hours of use before a new cutter is needed! The Eliminator is made from 3/4" round steel to absorb vibration and tapers down at the 3/8" carbide cutter to allow access in smaller openings. The end of the shank steps down to 1/2" diameter, making it perfect for use in the Hosaluk or Shure Grip handles. A wooden handle can be made to fit the tool. The tool shank is 9-1/2" with a 2" tenon to fit into the handle. The Mega Eliminator is made of 1" diameter steel (turned down to a 5/8" tenon), is 16" long, and comes equipped with a 1/2" carbide cutter.
Code
Name
Price
106110
Eliminator Carbide Hollowing Tool
$132.95
106103
Replacement 3/8" Carbide Cutter for Eliminator
$19.95
106104
Extra 1/4" Cutter for Mini Eliminator Carbide Hollowing Tool
$19.95
106105
Eliminator 1/2" Carbide Cutter
$23.95
106121
5/16" Eliminator Cutter
$19.95