Sjobergs Smart Vise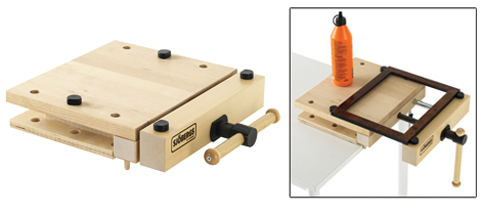 Add product to cart to see current promotions!
Sjobergs newest product is the Smart Vise. The Smart Vise provides a portable work surface that easily clamps to almost any table or other surface (clamps not included). It may be screwed down if needed.
The smart vise provides a 14" x 14" work surface and has a maximum of 4-1/4" gripping capacity in the vise. The vise is opened and closed by turning the handle on the front. Four bench dogs are included with the vise along with a choice of eight holes to position them in. This gives many holding options for square, round or other workpieces.
The top is made from 1" thick MDF for stability and with a melamine surface to keep glue from sticking to it.
Assembly Required
Code
Name
Price
SJ33274
Sjobergs Smart Vise
$129.95