Holey Galahad Sanding Discs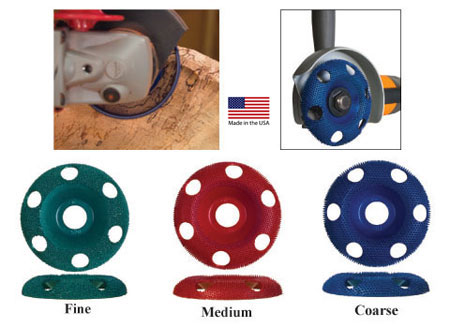 These patented carbide discs have "see through technology" enabling you to see the work piece while it is being cut. This feature increases production up to 15% by eliminating the need to stop the grinder to inspect the work piece. The Holey GalahadŽ Tungsten Carbide Abrasive Sanding Discs feature patented structured carbide teeth that are bonded to their whole cutting surface. The discs cut without heat buildup and last longer than sandpaper. These round profile 4" diameter discs have a 7/8" arbor hole to fit most 4-1/2" American made angle grinders. They are perfect for shaping wood, plastic, soapstone or composite materials. Difficult materials such as fiberglass, solid rubber, polyurethane, silicone and foam can also be shaped.
The Holey GalahadŽ discs are perfect for final shaping and removal of high spots and ridges left after using the Lancelot/Squire chainsaw discs. The Coarse and Medium are best for shaping and refining and the fine leaves a surface that needs little further sanding.
The Universal Nut needs to be used with the Holey Galahad Discs.
Code
Name
Price
301835
Fine Holey Galahad Disc
$71.95
301836
Medium Holey Galahad Disc
$83.95
301837
Coarse Holey Galahad Disc
$83.95
301834
Extreme Coarse Holey Galahad Disc
$83.95
301810
KA 5/8" Universal Nut
$9.95