Nova Titan III Chuck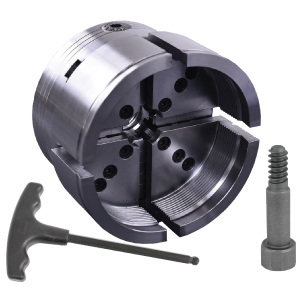 Ball End Key, tilt-away one handed operation
Precise, Powerful Geared Grip with Tuff Lock™
Chuck body is 5" in diameter by 2-1/2" deep
Extends gripping range of standard Nova Jaws
Longer hardened jaw slides with 3 mounting holes and safety stop
Includes New 5" Titan Powergrip Deep Jaws with 3 Hole for fastening to base jaws
5.75 Powergrip Jaws are 1-1/2" deep
Grips: 4" to 5-3/8", Expands: 4-5/8" to 6"
Includes Woodworm Screw Center
Direct threaded to fit 1-1/4" x 8 Spindle
Fully sealed composite indexing backing plate
Titan III Chuck Weight: 8 pounds
6 Year Limited Warranty
The Titan III is the largest in the Nova line of 4-Jaw Chucks. It is designed for lathes with a 16" or larger swing. The chuck includes the 1-5/8" Deep Powergrip III Jaws that are held on the chuck with 3 screws to hold larger workpieces. Two other sizes of deep grip Jaws are available as options (not included).
The Titan III is compatible with the standard Nova Jaws and will extend their holding range. The Titan III Includes: Chuck Body, Titan III 5" Powergrip™ Jaws, Screw Center, Ball End Chuck Key, Jaw Wrench, and Manual.
The Titan III is available direct threaded for 1-1/4" x 8 spindle thread only.
Code
Name
Price
113143
Nova Titan III Chuck 1-1/4"x8
$323.99
113145
Titan III 5-3/4" Jaws
$66.99
113146
Titan III 6-1/2" Jaws
$78.99