Nova Voyager Drill Press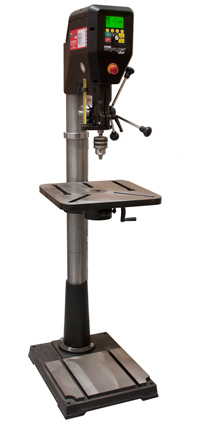 The Nova Voyager Drill Press is currently out of stock. We expect the manufacturer to have more in Late April. If you are interested in this popular item it would be best to order now to assure getting the sale price. The Drill Press Drop Ships from the manufacturer.
The Voyager is the world's first Smart Drill Press, offering state of the art technology to expand uses, save time and increase safety. The NOVA Voyager 18" DVR Drill Press is the most versatile Drill Press on the market, combining the proven DVR motor technology with great new features.
Powerful 1.75HP 115v/230v DVR Motor with emergency stop
Will drill wood, metal, plastic and glass
50-5500rpm variable speed (default is 50-3000rpm, can be changed for max. 5500rpm)
No belts, direct drive for quiet and smooth vibration free operation.
Intelligent Speed Selection to get the correct speed for the application
Slow Start Pilot Hole Function
Tapping Assist Function for making threads in metal
Digital speed readout with load readout
Electronic Braking
Digital Quill Depth Readout
Dial Knob for precise speed adjustment
Can run in Forward or Reverse
6" of quill travel in 2 revolutions of the handle
Adjustable mechanical depth stop
Swing: 18" with 6" spindle travel
Spindle Distance to Table: (Max.) 23-1/8"
Spindle Distance to Base: 40-94"
Table Size: (L x W): 16-1/2" x 16-1/2"
Table Tilt (Deg.): -45° to +45°
Table Rotation (Deg.): 360°
Chuck Size: 5/8"
Column Diameter: 3.62"
Footprint (L x W): 22-1/4" x 17-1/2"
Warranty 2 Years Full Replacement on Motor and Controller, 5 Years Mechanical
Weight 306 lbs

This item is shipped from the manufacturer. Air shipping and international shipping are not available for this item. Ships to the 48 contiguous states only. It is not available for pick up at our facility.

There is a $200.00 shipping charge for the Voyager Drill Press
Code
Name
Price
58000
Nova Voyager Drill Press
$1,499.99