Beall Buffing System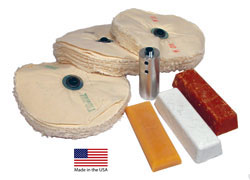 This is an excellent system for finishing letter openers, tool handles, bowls or any items that can be held and polished. This System gives a flawless finish by removing small scratches and imperfections and is high on our customer satisfaction list. The Beall Buffing System comes with two 9" and one 8" non-stitched buffing wheels and a special mounting hub that fits on the 1/2" or 5/8" shaft of a 1/3 or 1/2 horsepower motor. The mounting hub allows the buffing wheels to be changed quickly and easily without the use of tools. A set of three 4"wheels is available as an option for those doing smaller work as is an adaptor for mounting the hub on #2MT lathes.
To finish a piece of wood use the all linen wheel loaded with tripoli compound to remove scratches, use the softer linen-flannel wheel loaded with white diamond compound to remove any remaining tripoli and for final polishing, use the flannel wheel loaded with carnauba wax to create a beautiful finish. The Beall Buffing System includes the three Buffing Wheels, one bar of Tripoli, White Diamond and Carnauba Wax, mounting hub, and Instructions.
Code
Name
Price
123901
Beall Buffing System
$72.95
123905
Repl. Tripoli Bar
$5.95
123906
Repl. White Diamond Bar
$5.95
123907
Repl. 3oz Carnauba Wax Bar
$6.50
123908D
Repl. White Diamond Wheel
$17.95
123908T
Repl. Tripoli Wheel
$18.95
123908W
Repl. Wax Wheel
$17.95
123910
4" Buffing Wheels (Set of 3)
$26.95
123911
Repl. Mounting Hub
$15.95
123912
Beall #2 MT Adapter
$10.95
123935
Beall 3" Hub Extension
$15.95