Woodturner's Finish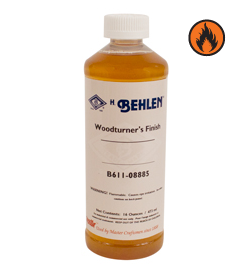 After over 100 Years, Behlen Finishing Products will no longer be sold. Availability is limited to our current stock.
This is a very fast drying, shellac based French Polish that is applied to the project with a paper towel or a pad while it is spinning slowly on the lathe. Woodturners Finish will add almost no color to the wood and will give your project a high gloss look. This finish can be buffed to a semigloss with steel wool or nonwoven hand pads. Woodturners Finish dries very quickly when used as a friction polish, making it perfect for pens, pencils, production products, bowls, fan pulls, finger tops and more. We also offer a thinner that is used with the Woodturner's Finish called Behkol.
This item is flammable. It cannot be shipped by air or through the United States Postal Service.
Code
Name
Price
125730
Behlen's Woodturner's Finish (Pt)
$24.95
125731
Behlen's Behkol Thinner (Qt.)
$10.50