Black Hole Dust Catcher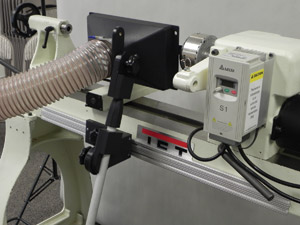 Dust Hood is easily positioned along lathe bed
Fast vertical adjustment with support arm
Includes reinforced 4" dia. x 8 ft flexible hose
Easy to attach to the lathe with detailed instructions
Aluminum rail attaches with included clamps or bolts
This new product represents a giant step forward for dust collection on the lathe. Designed with input from turners, including professional turners, this system will adapt to almost any lathe in any turning situation. The 2" wide by 34" aluminum rail allows the dust hood to be positioned anywhere along the lathe bed. The dust hood measures 13-1/2" by 7-1/4". A dust collector with a minimum of 400 cfm and a 4" intake is required.
The Black Hole System includes: 34" aluminum rail, support arm with locking hardware, 13-1/2" by 7-1/4"dust hood, and instructions.
Air shipping is not available for this item.
Code
Name
Price
191920
Black Hole Dust Catcher
$199.95
191921
Extra 34" Black Hole Extrusion
$34.95