Woodcut Bowl Saver Max3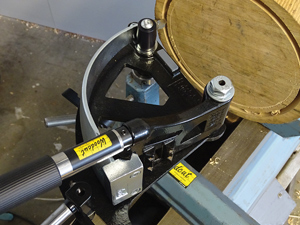 The Bowl Max3 is currently out of stock. We expect our next shipment in Mid to Late June. All orders will be backordered and processed (charged) when the Max3 ships.
Includes three high strength blades with Stellite Cutters
Makes cores from 3" to 17" diameter and up to 6" deep
Can cut up to 500 bowls before needing to be re-tipped
Stellite Cutter holds an edge 2-3 times longer than M2 HSS
Cutter is sharpened with a diamond hone or bench grinder
Includes 11-1/2" handle that can also be used for 1/2" diameter tools
Has two point support for reduced vibration and ease of use
Includes 1" Post for lathe banjo, and #2 Morse Taper for the tailstock
Optional (not included) Laser Attachment available to show the path of the knife
The Woodcut Bowl Saver Max3 is designed for lathes with a 16"-25" swing and a minimum of 2hp. It uses three knives to make cores from 3" to 17" in diameter and up to 6" deep. It is recommended for lathes 16" to 24" with 2hp motor. The system includes a 1" post and a #2 Morse Taper that fits into the tailstock. An optional (not included) Laser Attachment is available that traces the path the cutter will take on the outside of the bowl blank.
Code
Name
Price
111735
Woodcut Bowl Saver Max3
$469.95
111739
Laser Attachment - Bowl Saver Max3
$99.95