Talon Chuck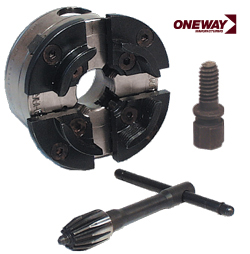 This smaller chuck from Oneway Manufacturing is 3-1/2" in diameter and weighs 3.4 pounds. This chuck is perfect for using on smaller lathes or for doing smaller work on big lathes. Self-Centering, Single key, one hand tightening makes the Talon Chuck easy to use with a positive grip on the workpiece. The new zig-zag base jaw design gives 50% more contact with the chuck body which should translate to better accuracy. The chuck body is nickel plated for resistance to rust and wear. The base jaws and scroll are hardened to provide long term reliability.
The #2 Jaws that come on the chuck will grip on a spigot from 1-5/8" to 2-7/8" in diameter. The same jaws can be used to expand into a dovetail recess from 2" to 3-3/8" in diameter. Optional accessory jaws are available for holding other sizes. Each chuck comes with a screw center that is used for holding wood that has a pilot hole drilled in it. The screw center will increase the holding possibilities of the chuck.
An insert to fit your lathe must be purchased separately.
Note: This chuck also comes in a Body-Only version. The Body-Only Chuck comes without the #2 Top Jaws, Jaw Screws, and Screw Center. When purchasing the Body-Only Chuck, an insert must be purchased separately.
Talon Chuck Includes
Nickel plated body to resist rust and wear
New base jaw design
#2 profile jaws
T-handle Tightening Key
Self-Centering 4-jaw design
Hardened scroll for long smooth operation
Patented Safety Lock to prevent injury
Owners Manual
Woodworm screw center for holding work
Patented profile jaws for maximum grip

Chuck and optional accessories are listed below.

A chuck adaptor to fit the lathe spindle needs to be purchased separately below
Code
Name
Price
112670
Talon 3-1/2'' 4-Jaw Scroll Chuck
$206.95
112670BO
Talon Chuck Body Only
$142.95
112606A
5/8" Plain Adaptor for Oneway/Talon Chuck
$24.95
112606B
3/4" Plain Adaptor for Oneway/Talon Chuck
$24.95
112606C
3/4"x16 TPI Adaptor for Oneway/Talon Chuck
$24.95
112606D
1"x8 TPI RH/LH Adaptor for Oneway/Talon Chuck
$24.95
112606E
7/8"x14 TPI Adaptor for Oneway/Talon Chuck
$24.95
112606G
1"x12 TPI 60 deg Adaptor for Oneway/Talon Chuck
$24.95
112606H
1-1/8"x8 TPI RH/LH Adaptor for Oneway/Talon Chuck
$24.95
112606J
1-1/4"x8 TPI Adaptor for Oneway/Talon Chuck
$24.95
112606K
33mm x 3.5 Adaptor for Oneway/Talon Chuck
$24.95
112606M
30mm Plain Adaptor for Oneway/Talon Chuck
$24.95
112671
Talon #1 Spigot Jaws
$40.95
112671S
Talon/Oneway Spigot Smooth Jaws
$40.95
112673
Talon #3 Jaws
$49.95
112673S
Talon #3 Smooth Jaws
$43.95
112674
Talon/Oneway Mini Jumbo Jaws
$89.95
112609
OW/Talon Pen Making Jaws
$40.95
112607
OW/Talon #2 Smooth Jaws
$41.95
112668
OW/Talon #2 Serrated Tower Jaws
$54.95