Vicmarc VM100 Chuck & Adaptors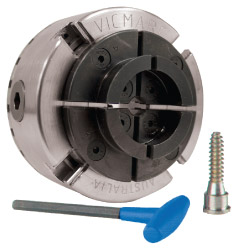 The VM100 Chuck features:
3-3/4" Body Diameter with index holes in backplate
Single Key, 4-Jaw Self-Centering Scroll Action
6 to 1 Gear Ratio insures a secure grip
Includes a Screw Center for holding work using a single hole
Includes 2 T-Handle hex keys and insert wrench
Weighs: 4-1/2 pounds
Includes 2" smooth dovetail jaws that following holding capacities:
Grips: 1-3/8" to 2-3/8" Expands: 1-3/4" to 3"
This Chuck requires an Adaptor to fit your lathe's spindle size. The Adaptor is purchased separately (item #118101A-K shown below).
Perfect for smaller lathes, this 3-3/4" dia. chuck is self-centering, has four jaws and weighs just 4-1/2 lbs. The Vicmarc VM100 is totally enclosed to help keep sawdust and chips from clogging up the chuck.
The 2" Jaws included with the chuck will grip a spigot from 1-3/8" to 2-1/4" in diameter or expand into a dovetail recess from 1-7/8" to 3-3/8" in dia. Also included is a screw center for making the chuck into a screw chuck. Single hand tightening with a 6 to 1 ratio, convenient size and price are what make the VM100 a very popular chuck.
Code
Name
Price
118100
Vicmarc VM100 96mm (3-3/4'') Chuck
$209.95
118100BO
Body Only VM100 Chuck
$189.95
118101A
5/8" Plain Adaptor for VM100 Chuck
$29.95
118101C
3/4"x16 TPI Adaptor for VM100 Chuck
$29.95
118101D
1"x8 TPI RH Adaptor for VM100 Chuck
$29.95
118101G
1"x12 TPI Adaptor for VM100 Chuck
$29.95
118101H
1-1/8"x8 TPI Adaptor for VM100 Chuck
$29.95
118101J
1-1/4"x8 TPI Adaptor for VM100 Chuck
$29.95
118101K
33mm x 3.5 Adaptor for VM100 Chuck
$29.95
118100SC
Repl. Jaw Screws for VM100
$7.95
118108
Vicmarc VM100 70mm (2-3/4'') Faceplate Ring
$21.95
118109
Vicmarc VM100/VM120 90mm (3-1/2'') Faceplate Ring
$25.95
118190
Repl. Screw Center for VM100, VM120
$19.95