Jet 1015 Mini Lathes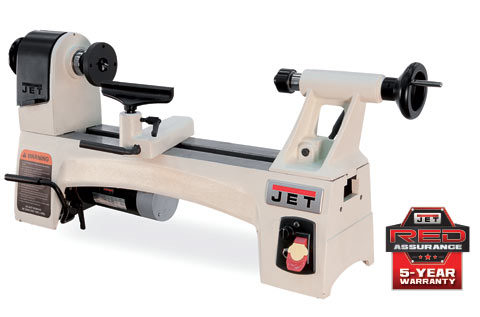 Jet Mini Lathe Specs
Lathe Construction:Cast Iron
Spindle Thread: 1" x 8 TPI
Headstock Taper: #2MT
Tailstock Taper: #2MT
Distance Between Centers: 15-1/2", 36" with optional bed extension
Tailstock Ram Travel: 2"
Spindle Through Hole: 3/8" diameter
Motor Size: 1/2 HP 115V
Spindle Speeds Jet 1015: 6 steps, 500, 840, 1240, 1800, 2630 and 3975 rpm
Spindle Speeds Jet 1015VS: 200-1050 rpm, 300-1750 rpm, and 600-3600 rpm
Swing Over Bed: 10"
Indexing: Yes, 24 position
Dimensions: 26"L x 7"W x 14"H
Net Weight: 77 lbs
10" Swing, 15-1/2" between centers
Integrated 24 position indexing
Improved tensioning system with easier access to belts
Wider bed ways provide increased rigidity
Live center in the tailstock
5-Year Warranty
The JET 1015 is an ideal choice for the novice woodturner looking for an affordable, user-friendly first lathe, as well as the advanced enthusiast or professional who wants to add a full-featured mini-lathe to the shop. This sturdy, smooth-running 15" mini-lathe has the power, precision and versatility to turn out any number of projects.
Standard Equipment includes: 6" Tool Rest, 3" Faceplate, Spur Center, Live Center, Knock-out Rod, Handwheel, 24-Position Indexing and Wrench and Manual.
An additional $35 will be added to regular Shipping & Handling for the lathe, $15 for the bed extension, $20 for the stand, and $15 for the stand extension.
This item is shipped from the manufacturer by truck. Air shipping and international shipping are not available for this item. Ships to the 48 contiguous states only. It is not available for pick up at our facility.
Code
Name
Price
719100
Jet 1015 6-Speed Mini Lathe
$499.99
719110
Jet 1015 Variable Speed Mini Lathe
$599.99
719101
Jet 1015 Bed Extension
$159.99
719102A
Jet 1015 Mini Lathe Stand
$269.99
719103A
Jet 1015 Stand Extension
$119.99