Oneway 20'' and 24'' Lathes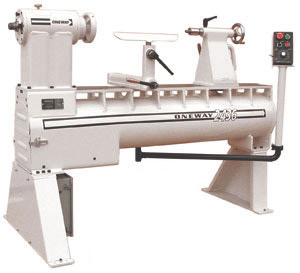 Oneway Manufacturing produces lathes that are considered among the best in their class. The design is robust and practical, making for a user friendly machine. These lathes are available with either a 20" or 24" swing and either 16" or 36" between centers. Depending on the model each lathe weighs between 600 and 850 pounds.
The Oneway 20" and 24" Lathes come with a safe driver (drive center), Live Tail Center, 6" Faceplate, 14" Tool Rest, Knockout Bar and instructions.
Headstock: Heavy duty solid steel Hardened spindle with #2 Morse Taper, threaded for 33mm by 3.5; four ball bearings; spindle lock; 48 position indexing plate. Spindle Heights available: 20" Swing Models: 41; 42"; 44"; 46", 24" Swing Models: 43; 44"; 46"; 48".
Tailstock: Heavy one piece cast iron; 1-1/2" diameter hollow quill with 4" travel; #3 Morse Taper; handle for easy removal; rigid clamp to prevent flexing or creep.
Lathe Bed: 3/8" thick steel welded on top of a 10-3/4"diameter heavy steel tube with 5/16" wall thickness; precision machined.
Drive System: 1-1/2 HP AC Electronic Variable Speed 220V motor (2HP & 3HP availableas an option); 3-step pulley for speed ranges of: 0-800; 0-1800 or 0-3000 rpm; reversing switch; controls.
Tool Rest Base: Cast iron with a special cam-lock design; easy placement and secure locking without creeping; has 14" toolrest.
Add $260.00 for 2hp motor, $588.00 for 3hp.

Shipping not included in lathe or accessory prices. Please contact us for freight cost on lathe and lathe accessory shipments.
Code
Name
Price
2016
Oneway 2016 Lathe 1-1/2 hp
$5,424.00
2036
Oneway 2036 Lathe
$5,565.00
2416
Oneway 2416 Lathe
$5,736.00
2436
Oneway 2436 Lathe
$5,893.00
202602
17'' Outboard Attachment for 20'' and 24'' Oneway Lathes
$324.95
202603
44'' Outboard Attachments for 20'' and 24'' Oneway Lathes
$709.95
202604
Large Toolrest for 44'' Attachment
$181.95
202607
Large banjo for 44" Attachment
$313.95
202612
60'' Bed Extension for 20'' and 24'' Oneway Lathes
$1,199.00
2721
6'' Toolrest for Oneway 20'' & 24'' lathes
$41.95
2HP
2 HP Upgrade
$260.00
2367
14'' Toolrest for Oneway 20'' & 24'' lathes
$60.95
3HP
3 HP Upgrade
$588.00
3889
24" Outboard Turning Attachment for Oneway 20" and 24" Lathes
$425.00