Vega 2600 Bowl Lathe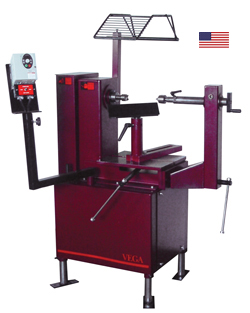 Vega Sale
Regular Price-$3095.00 Sale Price-$2899.95
Vega 2600 Lathe Specs
Between centers: 17"max 4"min
Spindle Thread: 1-1/4"x8TPI
#2MT in Headstock and Tailstock
Spindle Height: Adj. from 37" to 45"
Motor: 2HP AC Variable Speed 220V
Reversing switch standard
Speed Range: 0-425 or 0-2520 rpm
Guard: Steel Wire Mesh - easily removed
Footprint: 19" x 23"
Weight: 500 pounds
Designed specifically for turning bowls up to 25" in diameter, this lathe can also accommodate work between centers up to 17" long. Made of fabricated steel with 65 pounds of concrete ballast in the headstock, the 2600 Bowl Lathe has the ability to resist vibration while turning large bowls.
The 2600 is powered by a 2HP 220V motor with an electonic inverter for variable speed. Two speed ranges give this lathe plenty of torque when needed for larger project. The motor controls, including a reversing switch are mounted on a moveable pendant arm. The arm can be positioned within easy reach during the turning process for safety.
The tailstock is stationary and easily removed and replaced on the lathe when needed. The tailstock ram has a total of 9" of travel. A low profile cam action tool rest is included. The tool rest post is 1-1/4" diameter for extra strength. The concrete filled leveling legs are adjustable to allow for spindle heights from 37" to 45" from the floor.
Standard Equipment includes: faceplate,4-prong drive center, 12" tool rest, live tailstock center, reversing switch, wrench and instructions.
The charge for shipping is actual cost and is not included in lathe or accessory prices. Please contact us for freight cost on lathe and lathe accessory shipments. If you order online we will contact you with the shipping cost before shipping.
This item is shipped from the manufacturer by truck. Air shipping and international shipping are not available for this item. Ships to the 48 contiguous states only. It is not available for pick up at our facility.
Click on item number below or add to cart to see discount.
Code
Name
Price
207103
Vega Model 2600 Bowl Lathe
$3,095.00
117110
Vega 2600 4'' Tailstock Extension
$28.95
117115
Vega 2600 S-Shape Bowl Toolrest
$63.95
117120
1" Tool Rest Adaptor for Vega 2600
$38.95