Woodturner Angle Gauge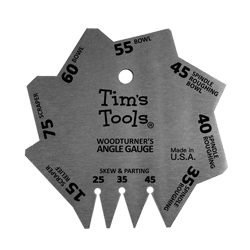 Designed by Tim Yoder using his 20 plus years experience. The Woodturners Angle Gauge has 10 of the most common and useful bevel angles for woodturners in one compact tool. The edge of the tool never touches the gauge. The gauge is made of extra thick stainless steel so tools have a wide surface to rest on. It measures 3-1/2" acrossand is made in the USA. The angles that can be measured are as follows:
Bowl Gouge: 45˚, 55˚,60˚ Spindle Gouge: 35˚, 40˚, 45˚ Roughing Gouge: 35˚, 40˚ & 45˚ Scraper: 75˚, Scraper Relief Angle: 15˚ Skew & Parting Tool: 25˚, 35˚, 45˚.
Code
Name
Price
131430
Yoder's Woodturner Angle Gauge
$24.95