Cigar Pen Kits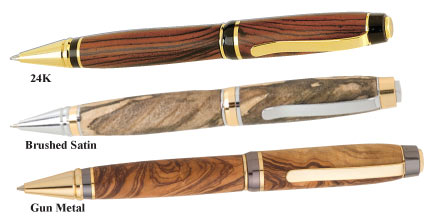 This is the largest pen kit we sell and should be well suited to people with larger hands. The Cigar Pen is available in 24K gold plated, Brushed Satin, and Gun Metal finishes for a distinctive look. Just twist to expose or retract the point.Wood blanks used to make this kit need to be at least 3/4" square.
The Cigar Pen Kit requires an optional 10mm drill bit offered below.
This project is turned on our standard pen mandrel with the bushings offered below.
Bushings: Bushings are needed to turn the project on the pen mandrels we offer. The bushings are used to size the outside diameter of the workpiece correctly for the specific project. They are also used to adapt the pen mandrel for project tubes larger than the mandrel shaft. Only one set of bushings are needed for many kits. After the bushings are worn down from sanding they will need replacing.
Code
Name
Price
154928
24K \ Black Cigar Pen Kit
$8.45
154928GM
Gun Metal Cigar Pen
$8.45
154928S
Satin Cigar Pen
$8.45
154928TCH
Cigar Pen Chrome/24k
$8.45
154928TGM
Cigar Pen 24k/Gun Metal
$8.45
154928B
Cigar Pen/Pcl Bushings
$5.95
150110
10mm Drill Bit
$8.95