Segmented Pen & Desk Kits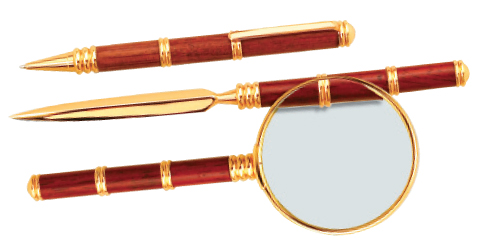 The Segmented Desk Set consists of a pen, letter opener and magnifying glass. These kits are styled to give an oriental look. These kits are available individually or as a set. These kits use 7mm tubes and are turned on our pen mandrel with the bushings sold below.
Bushings: Bushings are needed to turn the project on the pen mandrels we offer. The bushings are used to size the outside diameter of the workpiece correctly for the specific project. They are also used to adapt the pen mandrel for project tubes larger than the mandrel shaft. Only one set of bushings are needed for many kits. After the bushings are worn down from sanding they will need replacing.
Code
Name
Price
152957
24k Segmented Pen Kit
$6.95
152957B
Segmented Kit Bushings
$5.95
150117
7mm Drill Bit
$4.95