Platinum Group Kits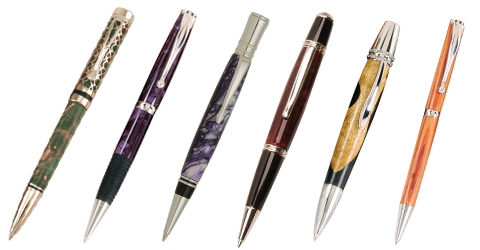 These top shelf pen and pencil kits are plated with rhodium, an exquisite and valuable precious metal from the platinum chemical group. Rhodium is extremely durable. Pens produced with rhodium plating will not tarnish and are very resistant to scratching and acids. These mechanisms will be the favorite of pen turners and collectors alike.
Each Platinum Group Kit includes an attractive Identification Card that explains the rhodium plating. Also included is a place for you to sign the card and give information about the wood or other material used in the pen.
Bushings: Bushings are needed to turn the project on the pen mandrels we offer. The bushings are used to size the outside diameter of the workpiece correctly for the specific project. They are also used to adapt the pen mandrel for project tubes larger than the mandrel shaft. Only one set of bushings are needed for many kits. After the bushings are worn down from sanding they will need replacing.