Satin Desk Set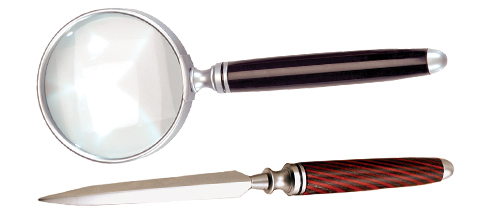 The Satin Designer Magnifier Kit makes a great companion for the Satin Designer Pen and Satin Letter Opener. The Satin Designer Magnifier lens measures 2-1/2" in diameter. The kit uses a 7mm tube and is turned on the standard Pen Mandrel.
This Designer Style Letter Opener is very distinctive and is sure to be a popular gift for giving or for selling at craft shows. The Brushed Satin finish has a pewter like look to it. It has a 7mm tube and is turned on our Std Mandrel with the bushings included with the mandrel.
Bushings: Bushings are needed to turn the project on the pen mandrels we offer. The bushings are used to size the outside diameter of the workpiece correctly for the specific project. They are also used to adapt the pen mandrel for project tubes larger than the mandrel shaft. Only one set of bushings are needed for many kits. After the bushings are worn down from sanding they will need replacing.
Code
Name
Price
154966S
Satin Designer Magnifier
$10.95
154906B
Designer Pen Bushings
$5.95
150117
7mm Drill Bit
$4.95