Bottle Cones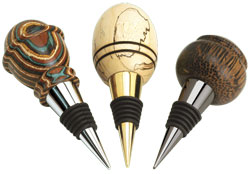 Now available in Chrome Plated, Gold Titanium and Black Titanium. These bottle cones feature a rubber gasket that will allow it to seat easily in almost any wine bottle. The Bottle Cones measure about 1" in diameter by 2-1/4" long, and can be turned using the Niles Stopper Mandrel (152205) and an 11/32" Drill Bit (150132). Some materials which work nicely with the Bottle Cone are:
Wood Blank Assortment (254900)
Color Grain Stopper Blanks
Wood pictured is not included.
Code
Name
Price
154938
Chrome Bottle Cone
$3.85
152939
Gold Titanium Bottle Cone
$5.45
152940
Black Titanium Bottle Cone
$5.45
114917
Bottle Cone Drill & Tap Set
$16.95