Corkscrews and Combos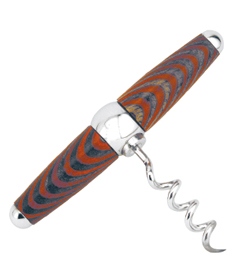 The T-Handle Cork Screw has superior leverage when opening a bottle of wine.
The T-Handle Corkscrew with Bottle Cone is the same as the one above, but is made to screw into a bottle cone and used as a stopper until a new bottle is opened. A 7mm Drill bit is used to make both projects. They are turned on our pen mandrel with the bushings sold below.
Bushings: Bushings are needed to turn the project on the pen mandrels we offer. The bushings are used to size the outside diameter of the workpiece correctly for the specific project. They are also used to adapt the pen mandrel for project tubes larger than the mandrel shaft. Only one set of bushings are needed for many kits. After the bushings are worn down from sanding they will need replacing.
Code
Name
Price
152932
T-Handle Corkscrew
$4.95
152933
T-Handle Corkscrew with Bottle Cone
$6.95
152932B
T-Handle Bushing Set
$5.95
150117
7mm Drill Bit
$4.95
152981
Combo Bottle Cone/Corkscrew
$5.95
153004
Low Profile Rnd Corkscrew/Bottle Cone
$4.95