Brass Candle Inserts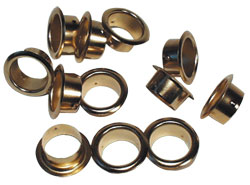 Whatever style of candle holder you may design, these brass plated candle inserts will serve to add beauty and protection to your wooden creation. The lip at the top of the insert is 5/32'' wide, and it fits over the top of a 7/8'' wide hole, which is at least 1/2'' deep.
The hole for the candle goes all the way through the holder. The brass plated inserts are made to fit standard tapered candles.
Pkg of 10.
Code
Name
Price
152101
Pkg 10 Brass Plated Candle Inserts
$2.95