Ball Bearing Spin Top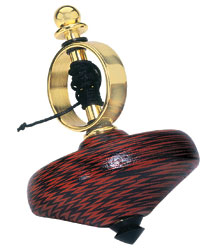 This large spinning top kit features a ball bearing design, so it acts like a gyroscope. It will also spin for a long time. The finished size is about 2-1/4" in diameter by 4" high. The exposed parts are 24k gold plated except the point. This project has 10mm tubes and is turned on our pen mandrel with the traditional bushings sold below.
Bushings: Bushings are needed to turn the project on the pen mandrels we offer. The bushings are used to size the outside diameter of the workpiece correctly for the specific project. They are also used to adapt the pen mandrel for project tubes larger than the mandrel shaft. Only one set of bushings are needed for many kits. After the bushings are worn down from sanding they will need replacing.
Code
Name
Price
152936
24k Spinning Top Kit
$7.95
154960B
Traditonal 10mm Bushings
$5.95
150110
10mm Drill Bit
$8.95