24k Perfume Applicator Kit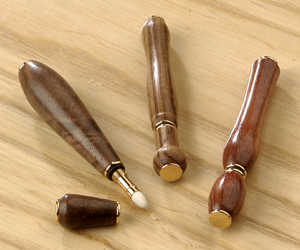 Perfume Applicators are a very popular item to sell at crafts shows and also make wonderful gifts. Used to apply small amounts of perfume during the day, the ceramic wick allows for convenient application of fragrance. The end cap threads onto the body and has a rubber O-ring that keeps the perfume from spilling or leaking. The finished Perfume Applicator is approximately 5" long. All external metal parts are 24k gold plated. These Perfume Applicator Kits require a 5/16" drill bit and are turned with our Standard Pen Mandrel using the bushings sold below.
Bushings: Bushings are needed to turn the project on the pen mandrels we offer. The bushings are used to size the outside diameter of the workpiece correctly for the specific project. They are also used to adapt the pen mandrel for project tubes larger than the mandrel shaft. Only one set of bushings are needed for many kits. After the bushings are worn down from sanding they will need replacing.
Code
Name
Price
154903
Perfume Applicator Kit
$2.95
154903B
Perfume Applicator Bushings
$5.95
150107
5/16 Drill bit
$4.95