Razor Kits and Stands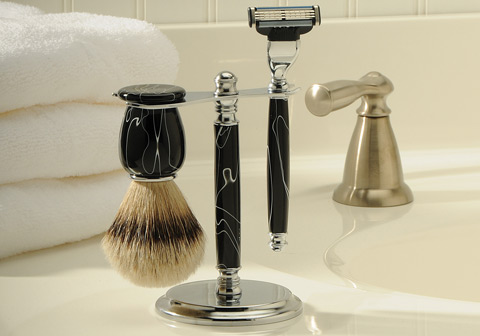 We offer several types of razor kits. We also offer stand kits for storage. They are turned on our pen mandrel using the appropriate busings.
Bushings: Bushings are needed to turn the project on the pen mandrels we offer. The bushings are used to size the outside diameter of the workpiece correctly for the specific project. They are also used to adapt the pen mandrel for project tubes larger than the mandrel shaft. Only one set of bushings are needed for many kits. After the bushings are worn down from sanding they will need replacing.
Code
Name
Price
153050
7mm Mach3 Razor Handle Kit
$8.95
153054
Safety Razor Handle Kit
$8.95
153050B
Razor/Bottle Opener Bushings
$4.95
153057
Speed Dial Safety Razor Kit
$10.95
153057B
Speed Dial Razor Bushings
$5.95
153051
Deluxe Razor Stand - Chrome
$15.95
153052
Premium Razor Stand Kit
$9.95
153053
Deluxe Chrome Razor/Brush Stand Kit
$17.95
153052B
Razor Stand Bushings
$5.95
153055
AAA Pure Badger Hair Brush
$11.95
153056
Best Badger Hair Brush
$21.95
153059
Chrome Plated Mounting Cup
$2.95
150132
11/32" Drill Bit
$3.95