Stainless Steel Inserts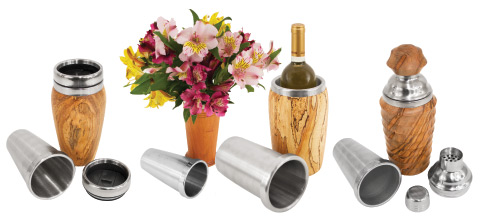 The 16oz Travel Mug Kit includes a Stainless Steel Travel Mug liner with lid. The liner protects the wood from the liquid. The lid of the mug has o-rings for a tight fit and features a slide mechanism for opening the mug. Detailed directions are included. Wood blank size is approx. 3-5/8" x 7-1/2". Wood not included
These Stainless Steel Inserts are perfect for making wooden flower vases that hold water while protecting the wood. The larger size can also be used for making a wine cooler. Detailed directions are included for creating and turning the outer vessel using stave construction or solid wood.
Small measures 3-1/4" tapered to 2-3/16" x 5-3/4
Large measures 4-1/2" tapered to 3-5/8" x 7-1/2"
This Cocktail Shaker Kit contains one 16oz stainless steel insert for a liner, Cocktail Shaker lid with strainer, and cap. A silicone seal keeps your favorite drink including protein shakes, and salad dressings from leaking out during the shaking process. Detailed directions are included for creating and turning the outer liner using staves and solid wood blocks. Wood not included
Code
Name
Price
153104
Travel Mug Kit
$9.95
153101
Small Stainless Insert
$5.95
153102
Large Stainless Insert
$13.50
153103
Cocktail Shaker Kit
$14.95