Jamieson Guide Block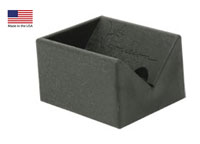 This jig makes it possible to quickly get the same set up on your grinding jig every time. After putting your gouge in the holder for your sharpening system, put it up against the block and slide the tool forward until it stops. Now tighten the tool into place in your jig.
The block gives a 2" extension for the tool. If a longer or shorter distance is needed a shim can easily be made for different applications. Screws for fastening the guided block to a bench are included.
Code
Name
Price
145801
Jamieson Grinding Jig Guide Block
$12.50