Jet Grinder
Jet Slow Speed Grinder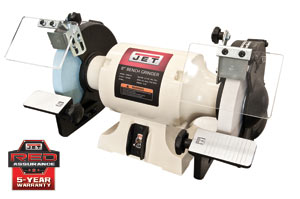 SALE! Save 15% 11/28/14 thru 12-1-14 Was $329.99, Now $280.49!
1/2 HP 115V Motor
1725 RPM Shaft Speed
5/8" Shaft Diameter
Adjustable spark arrestors
Tool rest reference lines
Durable cast iron wheel covers
Wheel size 8" diameter x 1" wide
Adjustable oversized safety shields
Oversized tool rests with integral angle indicator
Includes Norton® 3X 80 grit and White 100 grit wheels
This 8" Slow Speed Bench Grinder from Jet is designed with features for convenience and smooth operation with heavy duty construction. It includes tool rests and two Norton® Grinding Wheels as standard equipment. JETís innovative tool rests on the grinder have a larger platform area and an integrated angle indicator. Reference lines on the platform are used for easy alignment of the tool. This grinder is made with premium components for dependable accurate sharpening for many years to come.
An additional $20 will be added to regular Shipping & Handling for the Jet Slow Speed Grinder.
Code
Name
Price
726100
Jet 8" Slow Speed Grinder
$329.99