Hook & Loop Holders/Ext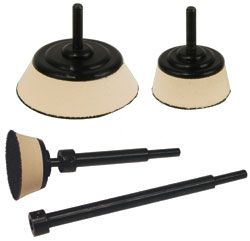 These 2" and 3" Hook & Loop Holders are used to hold the hook and loop discs we offer. They feature a 1/4" diameter round shank with a 1" thick medium density white foam rubber pad that is tapered for easy access.
Holder Extensions will give you sanding access in deeper turnings. We offer 3-1/2" and 6" lengths. We recommend using the 2" holder with the longer extension, allowing better control. Can be used on any holder with a 1/4" diameter shank.
Code
Name
Price
123002
2" Medium H&L Holder
$9.95
123003
3" Medium H&L Holder
$10.95
123012
2" Dual Density H&L Holder
$10.95
123013
3" Dual Density H&L Holder
$11.95
123803
3-1/2'' Hook and Loop Extension
$19.95
123806
6'' Hook and Loop Extension
$29.95
127204
2" Replacement Hook Material
$3.95
127205
3" Replacement Hook Material
$4.95