HD Pro Velcro Holders/Ext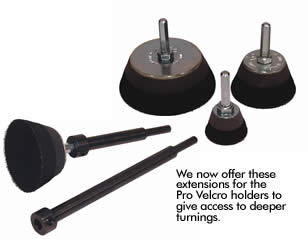 The HD Pro Velcro Holders have a 1" long 8mm hexagonal shank with a 1" thick two layer black foam rubber body for good support. These holders fit drill chucks 3/8" or larger. Made in Australia, these holders are looked at as the best available. We offer 1", 2" and 3" sizes.
Our new HD Sanding Extensions will give you sanding access you didn't think possible. We offer a 3-1/2" length for normal sanding situations and a 6" model for deeper reach situations. These extensions fit drill chucks 1/4" or larger. We recommend using a 1" or 2" holder with the longer extension for better control. For use with the HD Pro Velcro Holder.
Code
Name
Price
127231
1'' HD Pro Velcro Holder
$15.95
127232
2'' HD Pro Velcro Holder
$19.95
127233
3'' HD Pro Velcro Holder
$24.95
127204
2'' Replacement Velcro Fabric Disc
$3.95
127205
3'' Replacement Velcro Fabric Disc
$4.95
127212
1" Replacement Velcro Fabric Disc
$2.95
127243
3-1/2'' HD Pro Velcro Extension
$20.95
127246
6'' HD Pro Velcro Extension
$28.95