Guinevere Sanding System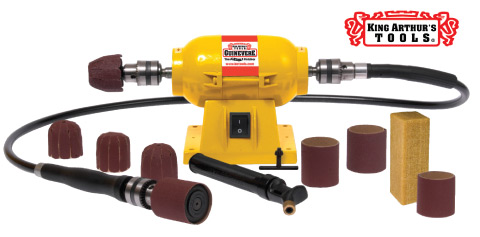 The Guinevere System uses two inflatable rubber sanders, one Drum Sander and the other Round Sander. They can be inflated to conform to the contour of almost any project. The flat sander can be used on flat pieces, legs and carving projects. The round sander is great for sanding the inside of bowls and carvings. The Guinevere System includes a flexible shaft for holding the sanders or other tools like carving burrs. The system is powered by a 3600 rpm 1/2HP motor that is smooth and quiet. Two drill type chucks are included for mounting the flexible shaft or the inflatable sanders. You can mount the flex shaft with one sander to one end of the motor chuck with the other sander fitted to the remaining chuck.
Included in the Guinevere Sanding System: 1/2hp Motor, Flexible Shaft, Inflatable Round Sander, 4 Assorted Round Sanding Sleeves, Inflatable Drum Sander, 4 Assorted Drum Sanding Sleeves, Micro Hand Pump and Cleaning Stick.
Code
Name
Price
121809
Complete Guinevere System Kit
$333.95
121801
Guinevere Sanding Kit
$123.95
121803
Guinevere Flexible Shaft
$76.95
121802
Guinevere Sanding Motor
$149.95
121804
Guinevere Hand Pump
$12.95
121815
Small 3/4" Inflatable Round Sander - Guinevere
$39.95
121815B
Repl. Small Round Sander Bulb
$9.95
121810
3 Assorted Small Round Sleeves
$9.95
121811
Three 80 Grit Small Round Sleeves
$9.95
121812
Three 150 Grit Small Round Sleeves
$9.95
121814
Three 320 Grit Small Round Sleeves
$9.95
121805
Guinevere 2" Inflatable Round Sander
$43.95
121850
Guinevere 4 Assorted 2" Grit Round Sleeves
$10.95
121851
Guinevere Pk3 60-grit Round Sleeves
$9.95
121852
Guinevere 3 120-grit Round Sleeves
$9.95
121853
Guinevere Pk3 220-grit Round Sleeves
$9.95
121854
Guinevere Pkg 3 - 320 grit Round Sleeves
$9.95
121805B
Guinevere Repl. Round Bulb
$9.95
121806
Guinevere Inflatable Drum Sander
$39.95
121860
Guinevere 4 Assorted Grit Drum Sleeves
$10.95