Micro Mesh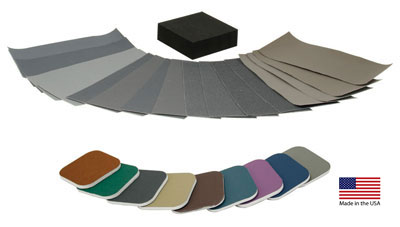 Micro-Mesh is a unique cushioned abrasive system with a very fine scratch pattern. This cloth backed abrasive is very flexible and can be used wet or dry. This means after use it can be washed out for longer life. Micro Mesh works best when used with a foam block provide support for the abrasive.
Micro-Mesh comes in 9 grits: 1500, 1800, 2400, 3200, 3600, 4000, 6000, 8000, and 12000. The 1,800 grit is equal to 800 grit in regular sandpaper. We offer a 1" x 3" x3" foam rubber block to be used for backing the micro mesh.
We also offer an assortment of pads the are self cushioned and are convenient for small projects like pens. They are color coded.
Code
Name
Price
124411
Micro-Mesh 4000-12,000 Kit
$18.95
124410
Micro-Mesh 1500-3600 Kit
$22.95
124405
Micro-Mesh Foam Block
$2.95
124401
Micro-Mesh Soft Pad Assortment Kit
$9.95
124402
Micro-Mesh Pro Woodworking Kit
$39.95
124415
Pkg 5 3" x 6" 1500 Grit Sheets
$9.95
124418
Pkg 5 3" x 6" 1800 Grit Sheets
$9.95
124424
Pkg 5 3" x 6" 2400 Grit Sheets
$9.95
124432
Pkg 5 3" x 6" 3200 Grit Sheets
$9.95
124436
Pkg 5 3" x 6" 3600 Grit Sheets
$9.95
124440
Pkg 5 3" x 6" 4000 Grit Sheets
$9.95
124460
Pkg 5 3" x 6" 6000 Grit Sheets
$9.95
124480
Pkg 5 3" x 6" 8000 Grit Sheets
$9.95
124490
Pkg 5 3" x 6" 12000 Grit Sheets
$9.95