Mini Easy Wood Tools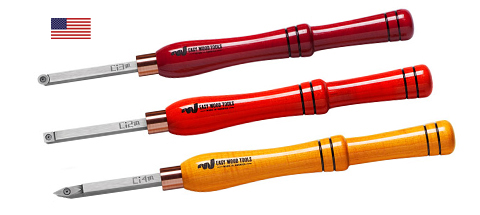 Save 15% on Easy Wood Tools and Cutters through 6/20/18. Click on the item number or add to cart to see the Sale Price!
These Mini versions of the Easy Wood Tools are perfect for small lathes. All the tools have a stainless steel shank that measures 3/8" sq. by 4" and come fitted with a 12" handle.
We offer:
Mini Rougher with a 10.5mm square carbide cutter
Mini Finisher with11mm round carbide cutter
Mini Detailer with a diamond shaped carbide cutter
Code
Name
Price
105632
Mini Easy Rougher
$89.95
105622
Ci2/Ci2m 10.5mm Square Cutter
$13.95
105621
EWT Ci2-R2 Radius Sq Cutter
$14.95
105633
Mini Easy Finisher
$89.95
105633C
Ci3m 11mm Rnd Carbide Cutter w/screw
$16.95
105634
Mini Easy Detailer
$89.95
105634C
EWT Detailer Cutter with Screw
$18.95
105618
EWT 3/8" Chip Deflector
$24.95