Jordan Hollowing Tools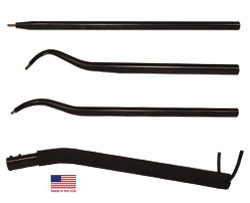 We are pleased to be able to offer these hollowing tools that are designed by John Jordan. These are the same as the tools John has used for nearly 20 years to produce his high quality hollow form vessels. The two types of tools offered are Straight Tools for initial hollowing and Hook Tools for reaching more to the side and shoulder area of the turning. The cutter is held in the tool with a set screw and can be removed for sharpening with the special jig offered below.
The Straight Tools are boring bars that measure either 1/2" diameter or 3/4" diameter. They come with a 3/16" square high speed steel cutter with a round nose shape. The end of the tool is tapered to provide good clearance and have a black oxide finish to help guard against rust.
The Hook Tools are designed to keep the cutter in the perfect position to reduce rotational force and grabbing. They come with a 3/16" square high speed steel cutter with a round nose shape. The cutter of all the tools is held securely by a set screw from underneath. The shape of the Hook Tool shanks are designed to have good access into limited sized openings. The 1/2" Hook Tool measures 12" while the 3/4" Hook Tool is offered in 16" and 20" lengths.
The Jordan Handle is designed to offer a relaxed grip and maximum control. It measures 18" by 1-1/4" diameter and is covered by a rubber sleeve for comfort and control. An optional adapter is available to allow the 1/2" tools to be held in the Jordan Handle. The tools can also be held in the Oneway Shure Grip or Hosaluk Handles (3/4" tools need an adaptor). All of the 3/4" diameter tools can be used in captured handle systems like the Jamieson or Sorby Armbrace Handles.
Code
Name
Price
102720
Jordan 1/2" x 12" Straight Tool
$34.95
102721
Jordan 1/2" x 12" Hook Tool
$44.95
102722
Jordan 3/4" x 20" Straight Tool
$54.95
102723
Jordan 3/4" x 16" #1 Hook Tool
$79.95
102724
Jordan 3/4" x 20" #2 Hook Tool
$84.95
102740
12" Jordan Straight Handle
$39.95
102741
18" Jordan Straight Handle
$49.95
102743
3/8" Jordan Handle Adaptor
$5.95
102726
1/2" Adaptor for Handle
$5.95
102727
Jordan Sharpening Jig
$24.95
102728
Repl. Cutter Straight Tool
$4.95
102729
Repl. Cutter Hook Tool
$5.95
102718
Jordan 3/8" x 12" Straight Tool
$34.95
102719
Jordan 3/8" x 12" Hook Tool
$44.95