Hollowing System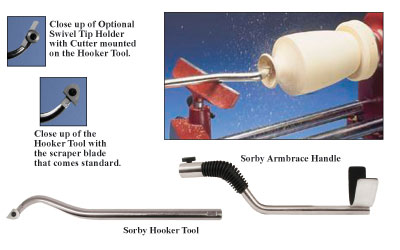 The Sorby Hollowing System is used for hollowing vessels up to 10" deep depending on the skill level of the turner. It is hand held with the Armbrace Handle for good control while cutting.
The Sorby Hooker Tool measures 14" long. It is held in the Armbrace Handle. The main use of the Hooker is for hollowing vessels through a limited opening. The shape allows for hollowing with less rotational force on the turner. This tool features a high speed steel cutter that is shaped with a point for roughing cuts and a more sweeping curve for smoothing cuts. A Swivel Holder and cutter is available as an option.
The Sorby Armbrace Handle holds the Sorby Hooker Tool, providing, comfortable control. It holds any tool with 3/4" diameter shank. Made of 3/4" diameter steel featuring an aluminum cuff and a ribbed rubber non-slip grip.
The Swivel Tip with Cutter is available as an option for the Sorby Hooker Tool. The Swivel Tip with Cutter features a 1/4" wide high speed steel cutter with a swivel tip holder that gives increased access to hard to reach areas.
Code
Name
Price
108790
Sorby Armbrace Handle
$81.95
108791
Sorby Hooker Tool
$70.50
108792
Sorby Swivel Tip with Cutter
$35.95
108794
SBY 222 Scraper Blade
$15.95
108795
Repl. RS211C Swivel Tip Cutter for 108769
$15.95