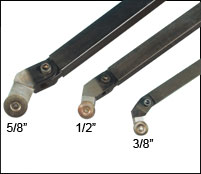 | | | |
| --- | --- | --- |
| Cutter dia. | Shank Size | Total Lenght |
| 3/8" | 3/8" sq. x 8" | 24" |
| 1/2" | 1/2" sq. x 9" | 25" |
| 5/8" | 5/8" sq. x 12" | 32" |
All Supercut Tools come
fitted with ash handles.
Our customers have been very successful with this wonderful type of turning tool made by Bierton Craft Turnery in England. It was developed by a tool maker with the input of woodturners and will peel beautiful shavings off the workpiece, leaving a pristine surface finish.
The Supercut Tools use a unique round high speed steel cutter that has a concave (dished) top. The cutter can be rotated to a new sharp cutting edge four to six times before regrinding or honing. One customer marks the used area with a felt tip marker before rotating to a fresh surface so it is easy to see when more sharpening is needed. The angle of the cutter can be adjusted by rotating the cutter holder. For best results set between 30° and 60°.
Each tool comes with a sharpening mandrel to allow for fast and easy sharpening using a bench grinder. The mandrel threads into the cutter hole and can be held in a drill chuck in the headstock for honing or in a simple grinder jig made by the user (instructions included).
The cutter holder is attached to an articulating arm that permits the cutter to be moved to the left or right to allow for optimum cutter position and for undercutting the lip of a workpiece. This arm is supported by a square shank that helps to counteract the rotational force and serves as a reference as to the cutter position. The cutter can be rotated from 30° to 60° to adjust the cut between more agressive roughing and shear finishing cut.
When testing the tools we were impressed with the ease of achieving a smooth consistent cut on end grain. We were able to get an excellent finish cut on face grain even when cutting from the center towards the outside. Instructions for use and sharpening are included. We offer three sizes of the Supercut Universal Tool: 3/8", 1/2", 5/8". Each tool comes fitted with an Ash handle.