Bonnie Klein HSS Tools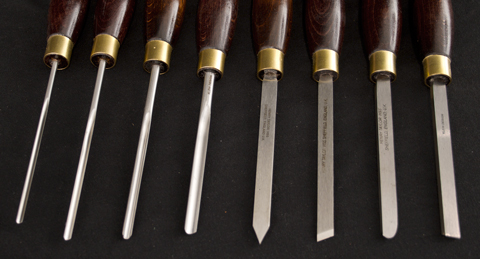 Bonnie Klein is an internationally known turner and woodturning teacher. These tools made by Henry Taylor Tools were designed by Bonnie Klein for making small scale turnings like her well known finger tops and boxes. All the tools are made of M2 high speed steel hardened to 62-64 HRC with a tool length of 4" and come fitted with 7" stained beech handles.
Click the ITEM CODE below for information and ordering.
Code
Name
Price
104082
Bonnie Klein 1/4" Gouge
$30.95
104083
Bonnie Klein 5/16" Gouge
$30.95
104084
Bonnie Klein 3/32" Parting Tool
$30.95
104085
Bonnie Klein 3/8" Skew
$30.95
104086
Bonnie Klein 3/8" Radius Scraper
$30.95
104087
Bonnie Klein 3/8" Square Scraper
$30.95