Kryo Diamond Parting Tool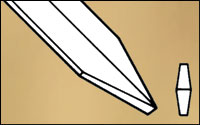 This 3/16" parting tool is designed to have good clearance on the sides to reduce friction during the cut. The blade measures 6-1/2" and is fitted with a 9-1/2" handle.
These tools are the result of an advanced cryogenic process that has been used in other industries, such as metal working and even stock car racing. The M2 high speed steel is put through a complex immersion process, down to temperatures of -300° Fahrenheit, changing the structure of the steel producing into a fine harder martensitic structure.
This translates into better wear resistance, meaning better edge holding ability of the tools. Our independent testing with professional woodturners has confirmed the manufacturers claims of up to 3 times longer edge holding ability than standard M2 high speed steel. This edge holding performance is similar to the ASP2030 or Pro PM steels. The honing ability of the Kryo tools is very good allowing the tools to take a very sharp edge. They perform well in abrasive exotic woods. We think these tools with the subtle gold hue represent a new step in turning tool development and are well worth trying in your shop.
Code
Name
Price
104031K
HT Kryo Diamond Parting Tool
$85.95