Turn it Up Box Set by Jimmy Clewes - DVD
| | |
| --- | --- |
| Code | 186843 |
| Quantity in Cart | None |
| Price | $69.95 |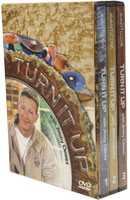 We are pleased to offer this new set of 3 DVD's by master woodturner Jimmy Clewes. His fist set of DVD's have been best sellers and this new set "TURN IT UP" is sure to be as well. The set has a total of 6 hours of material. Each DVD has two projects that are shown in detail from beginning to end like Jimmy's other DVD's. Coloring of the wood is covered in detail as are decorative techniques to make the projects one of a kind.
The production of the video is done in a professional manner with clear camera work, good informative close ups, and great lighting.
The "TURN IT UP" series of DVD'S are available as a 3 DVD boxed set.
Total Running Time 6 hours