Unhandled Full-Size Easy Hollower #3
| | |
| --- | --- |
| Code | 105640U |
| Quantity in Cart | None |
| Price | $124.95 |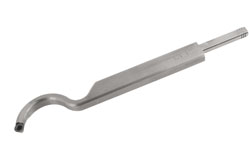 This tool comes unhandled.
The Full-Size Easy Hollower features a true curve neck to provide access into hollow forms up to 5" in diameter. The stainless steel shank of the tool is 1" wide by 1/2" thick. This allows the user to keep the tool flat on the rest for a more controlled cut. The curved section should never be on the tool rest. The round carbide cutter measures 11mm in diameter. The blade measures 9-1/2". It has a 1/2" diameter tenon to fit into a handle.
This tool is not compatible with the EWT Chip Deflector.