Sorby Spiraling / Texture Set
| | |
| --- | --- |
| Code | 108777 |
| Quantity in Cart | None |
| Price | $209.95 |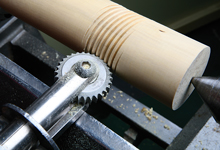 This set of tools opens up new possibilities for the woodturner. As seen in the picture (bottom right) the texturing adds more of a tactile sense to the turnings as well as more of a three dimensional look. The set includes one texturing cutter that can be used on hard or soft woods to give individuality to any turning. The spiraling cutters included can also be experimented with to make different texture patterns.
The three spiraling cutters included in the set allow the turner to make barley twists to decorate boxes, candlesticks, goblets and many other projects. Used in a similar fashion to chasing threads, the lathe must ideally be able to run at a slow speed of 300-400 RPM, while the tool is applied and run along the turning. The tool comes with a rest used to set the angle of the spirals and includes markings so the same pattern may be repeated. The picture at right shows just a few of the unlimited options that this tool will make possible.
Included are:
Instructions,
Spiraling Rest,
Texturing Cutter,
2mm, 4mm, and 6mm spiraling cutters.