Large Vac Stabilizing System (without Generator)
| | |
| --- | --- |
| Code | 110980 |
| Quantity in Cart | None |
| Price | $224.95 |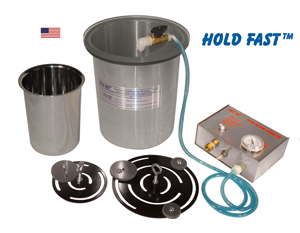 Vacuum Generator pictured above right, sold separately
Use wood that would have been thrown away
Uses water based resin that is low odor
Prevents wood from future cracking
Great for pen and bottle stopper blanks
Stabilize up to 70 Pen blanks at one time
Can be used for knife, smaller peppermills
Resin is clear or add color for great effects
Includes Large and Small Vacuum Chambers
This Wood Stabilization System is a user friendly way to stabilize and color wood. Even spalted woods and difficult burls will become solid and easier to turn after being processed. A vacuum is used to pull the stabilization resin into the wood blanks keeping them from cracking or changing in the future. The resin is water soluble and any excess can be reused to stabilize other wood. Also, dramatic effects can be created by adding color to the resin. The wood being stabilized needs to be dry (15% moisture or less) for best results. After treating, the wood needs to be cured in an oven to complete the stabilization process. A toaster oven will work fine for small batches.
Two sizes of vacuum chamber are included and each comes with a cam-lock anti-float plate to keep the wood submerged. The large one can be used for up to 70 pen blanks, bottle stopper blanks, or small bowl and vessel blanks. The vacuum can be supplied by the optional vacuum generator pictured above or a vacuum pump with a regulator.
The Stabilization System includes:

8.25 Quart Tank: holds 50-70 Pen Blanks
2 Quart Tank: holds up to 20 Pen Blanks
Unique cam lock Anti-Float Plates to keep wood submerged, one for each container
Clear viewing cover with on/off/bleed valve
The Vacuum Generator (sold separately) uses an air compressor to create a vacuum. It works with a compressor that has at least 2.5 CFM. The generator includes: on/off switch, vacuum gauge, regulator to adjust vacuum. The generator uses 70-90 PSI to create up to 24" of vacuum.