Carter Multirest™ Work Support System
| | |
| --- | --- |
| Code | 112501 |
| Quantity in Cart | None |
| Price | $375.95 |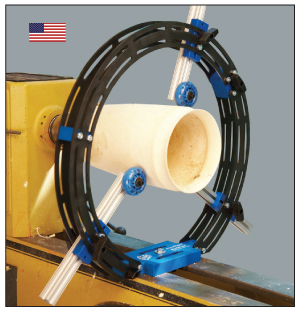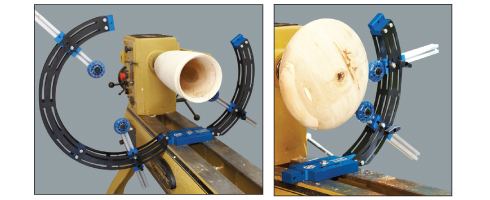 The patent pending MultiRest™ is unlike any other steady rest on the market. It comes with three roller assemblies that can be positioned anywhere around the ring for maximum flexibility. Extra wheel assemblies can be added for maximum support when needed. The MultiRest is compatible with lathe swing sizes up to 20" with no additional hardware required. It will hold workpieces up 13" depending on the swing of the lathe being used. The base of the MultiRest has independently adjustable spacer blocks that provide a secure fit on lathe bedway gaps from 1" to 4.5".
The unique 2-piece design allows the MultiRest to be quickly opened while leaving the mounting base of the MultiRest still firmly attached to the lathe bed. This provides easy access when mounting parts and is also useful for access during sanding operations. In addition, separating the larger ring section from the MultiRest allows the remaining smaller section to be used as a bowl rest. This provides solid support behind the work piece to reduce vibration without having to use a hand behind the workpiece.
The multi-ring structure used in the MultiRest creates great rigidity while keeping the tool's weight to half that of a comparable full steel rest. High strength, laser cut steel and aircraft grade aluminum components assure the ultimate in strength and durability. Each of the MultiRest's bearing mounted, non-marring urethane wheels have a rigid internal ring to prevent sidewall flex, thus giving exceptional support while still being gentle on the workpiece. The MultiRest uses the same high strength industrial sealed bearings used in Carter's time tested bandsaw guides that are far superior than typical skate wheel and bearing. The MultiRest includes: 3 wheel assemblies, base with mounting hardware.