Oneway 4" 4-Jaw Scroll Chuck
| | |
| --- | --- |
| Code | 112601 |
| Quantity in Cart | None |
| Price | $172.95 |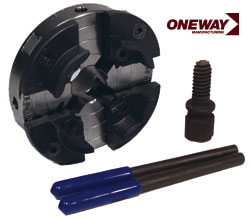 The Oneway 4-Jaw Chuck System is precision made and easy to use. It measures 4" in dia. and provides a very secure grip on the workpiece by contracting onto a round spigot (tenon) or expanding into a dovetail recess. Square stock can also be gripped securely and easily.
The Oneway Chuck comes with #2 top jaws that will grip round stock from 1-3/4" dia. to 3" dia. or expand into a dovetail recess from 2" dia. to 3-1/2" diameter These jaws will also grip square stock from 1-1/4" to 2-3/4". Also included as standard equipment for Oneway Chuck is a 1-1/2" Screw Center which allows the workpiece to be held using just a 3/8" hole 3/4" deep. An optional 2" Screw center is available below.
The chuck adaptor needs to be ordered separately below.
Note: This chuck also comes in a Body-Only version. The Body-Only Chuck comes without the #2 Top Jaws, Jaw Screws, and Screw Center.
Oneway Chuck Includes
Nickel plated body to resist rust and wear
Hardened base jaws for long term accuracy
T-handle tightening key
4mm Hex Wrench
Self-Centering 4-jaw design
Hardened scroll for long smooth operation
Patented Safety Lock to prevent injury
Opens and closes using two levers
Woodworm screw center for holding work
Patented profile jaws for maximum grip
Owners Manual