Easy Core 24'' Swing Base Set
| | |
| --- | --- |
| Code | 112696 |
| Quantity in Cart | None |
| Price | $179.95 |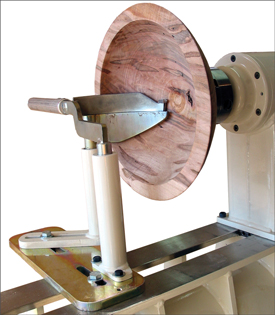 The Base Set for the Easy Core System attaches to the lathe bed with an optional clamp block. The Knife Set and Support Finger (purchased separately) are held by the Base Set during the coring process. This provides a solid foundation for increased accuracy.
The Base Set includes the support base, two posts, spacers, Handle and wrench. Base Sets are available to fit 16", 18", 20" or 24" swing lathes. Please indicate the make, model and the swing of your lathe when you order to assure a proper fit.
A clamp block to fit your lathe must be ordered separately from the chart below to attach the base set to your lathe.
A Knife Set must be purchased separately with the Base Set to complete the Easy Core System