Hot Stuff Solvent 2 oz.
| | |
| --- | --- |
| Code | 121005 |
| Quantity in Cart | None |
| Price | $8.95 |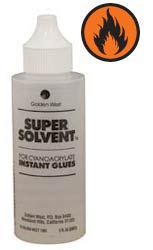 In turning it is indispensable for fixing cracks in wet or dry wood, or attaching blanks to waste stock. This glue bonds a wide range of materials in about 20 seconds (a little longer for the Med. and Thick). Hot Stuff comes in three thicknesses (viscosities). Thin: (Original - Red Label) for penetrating and hardening rotten wood, gluing sawdust that has been packed in cracks. Medium Gap Filling (Super T - Yellow Label): for filling bigger cracks or gluing more porous woods or surfaces that have slight gaps where they meet. Also good for gluing bowl blanks to waste blocks. Maximum Gap Filling (Special T - Green Label): for filling larger cracks or bonding surfaces that have fairly large gaps where they meet. Hot Stuff Non CFC Accelerator: will speed up the glue's reaction time and joins the wood almost instantly. We recommend using Accelerator especially when using the Medium or Gap Filling glues. The non CFC Accelerator is more concentrated than the "old" formula and will also evaporate more easily so we recommend keeping the cap on it between uses instead of the pump spray top. Hot Stuff Solvent: can be used to separate pieces joined together or to separate your fingers. It can also be used in clean up.