Mylands Danish Oil (500ml)
| | |
| --- | --- |
| Code | 125509 |
| Quantity in Cart | None |
| Price | $21.50 |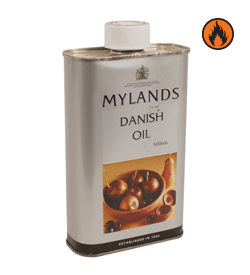 We are happy to be the first dealer in the USA to carry this product. Mylands Danish Oil is a Tung Oil based finish that is sure to be popular, like the other Myland finishes we sell. It is tough enough to be used outside and will provide maximum protection to any project.
Mylands Danish Oil will penetrate the wood and then harden. Multiple coats can be built up for a higher sheen and for more protection. It can be applied with a brush or cloth. 500 ML (16.9oz)
This item is flammable. It cannot be shipped by air or through the United States Postal Service.