Mylands Antique Brown Wax
| | |
| --- | --- |
| Code | 125514 |
| Quantity in Cart | None |
| Price | $16.95 |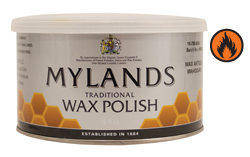 Made from a formula dating back 100 years in England, this wax is a favorite with woodturners, restorers and furniture conservators. Mylands is made of a blend of beeswax, carnauba wax and shellac wax. It is important to note for health reasons that these waxes contain no toluene.
Mylands Wax can be used over almost any other finish, is easy to apply and leaves a long lasting surface with a deep lustrous appearance. This wax is available in Clear, Antique Brown for darker woods, and Antique Mahogany for red woods like cherry. You can also use Mylands on your furniture at home. Comes in a 16oz can.
This item is flammable. It cannot be shipped by air or through the United States Postal Service.