Pitch Black Milk Paint - pint
| | |
| --- | --- |
| Code | 126014 |
| Quantity in Cart | None |
| Price | $11.95 |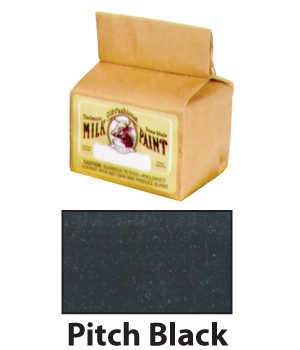 The deep rich colors of Milk Paint reflect those colors found on existing antique furniture. It is a favorite among Windsor Chair and Shaker Box makers.
Deep Rich Earth Colors that will not fade.
Matte finish when put on raw wood.
Non Toxic and Biodegradable
No lead, no chemical preservatives
Dry powder is easy to mix, has long shelf life
Adheres to almost all clean, dry porous surfaces
Fast Drying, Non- Flamable and solvent free
As in originally produced home-made milk paint, this product uses milk protein, lime, clay, and earth pigments such as ochre, umber, iron oxide, and lampblack. The lime becomes totally inert when mixed with the slightly acid milk protein. Contains no hydrocarbons or any other petroleum derivatives. Milk Paint is packaged in a dry powder form allowing you to control the thickness of the paint for use as either a wash/stain, full cover coat, or for stenciling. Colors can be mixed to form other hues. Each 8 oz. package will make one pint of milk paint.