Powermatic 3520B Lathe
Code
1352001
Quantity in Cart
None
Price

$3,999.99

$3,199.99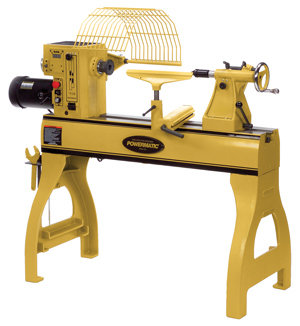 Save 20%, 8/1/17 to 8/31/17 or While Supplies Last
Free shipping to residential or commercial address to the 48 contiguous states. Liftgate included where needed.
The 3520B is made of heavy 1/2" thick cast iron with precision ground bedways. The headstock is designed to slide along the bed to create a short bed lathe or to turn outboard off the tailstock end of the lathe. It is locked in place with a convenient cam-lock handle. The tailstock features solid cast iron construction with a storage area protected by a door.
The 3520B is powered by a reversable, 220V, 2hp AC Variable speed motor with a readout on the front of the headstock. It has a 10 groove Poly-V belt with two speed ranges for maximum torque. The cast iron base has brackets for two shelves and a tool holder for wrenches.
Features & Specifications

Standard Equipment Includes

Cast iron construction
Extended 1-1/4"x 8TPI Spindle
44" Spindle Height
#2MT Headstock Taper
5/8" Headstock Spindle Bore
Offset Cam-Action Banjo
#2MT Tailstock Taper
4" Tailstock Ram travel
Holder for Spindle Copying
34-1/2" Between centers
2 HP 220V Motor, with reversing
Electronic Inverter w/speeds 50-1200rpm and 125-3200rpm
20" Swing over Bed
Dimensions L by W by H: 54" x 27" x 58"
Shipping Weight: 717 lbs

Guard
14" Toolrest
Tool Holder
3" Faceplate
Knockout Rod
Spur Center
Live Tail Center
Spindle Lock
Wrench
This item is shipped from the manufacturer by truck. Air shipping and international shipping are not available for this item. Ships to the 48 contiguous states only. It is not available for pick up at our facility.